People Magainze's Faceoff. Let's compare, shall we?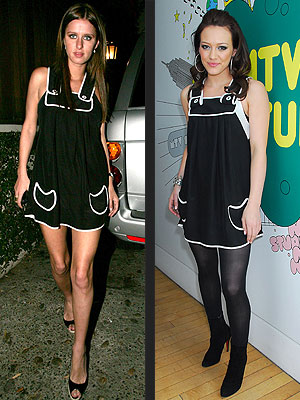 Despite the fact that Nikki Hilton looks like a deer in headlights, I would still say that Hillary Duff looks better. She makes the dress a bit more edgy with the black hose. I think with the solid black material that it looks like it's missing something without the leggings. Although I will say that Hillary's choice in shoe leave something to be desired. It looks like she could go horseback riding, or muck stalls.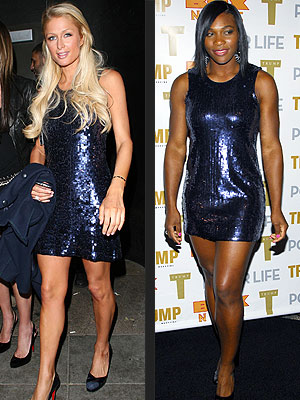 Well, I hate to admit it, but I love this dress of Paris and her shoes are faboo! I applaud the attempt by Serena and it almost works, but it looks a shade too small so it doesn't drape as nicely. The length is way too short for her muscular legs. I'm fearful of what it might look like from behind. In this photo it looks like it's riding higher than her Hanes. Not good.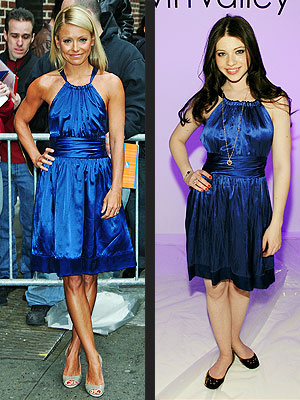 Kelly Ripa's voice is like nails on a chalkboard, but this dress is as cute as can be on her. I'm not sure if Michelle Trachtenberg thought it was a 70s linen scrunch dress and tried to roll it in a long tube whilst wet? Or if she rooted around Kelly's laundry hamper for it after she was done wearing it. It needs to be pressed and taken in on the top. I bet if you stand behind her you could get a free preview!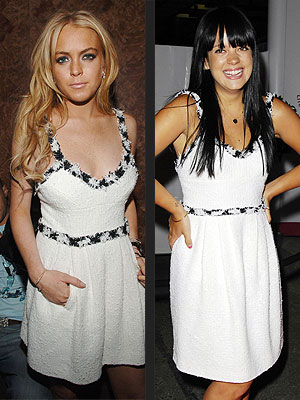 Poor Lindsay's angry. As she should be! She looks like a campfire marshmellow that got droppped in the ashes. Lily looks gleeful. She pulls it off better, but this is just a bad dress for the both of them. They look like they weight about 80 pounds more than the do. I mean that would bring them both up to an even hundred, but what's the fun in just being kinda skinny?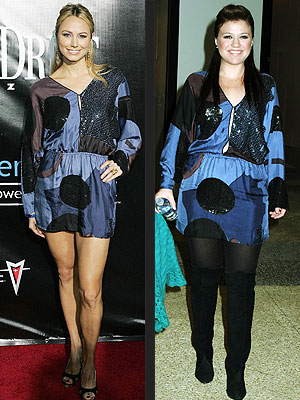 Hmmm speaking of 100 pounds. Oh Kelly Clarkson. How you rock my music world, but wow. I can't even begin to say how unflattering this is on you. Isn't it true that if you go big on top, to go small on bottom? Not big and bigger. What are you hiding in that tent? Some carnies?